Details

Written by

Kevin Bird

Category:

News Updates
On Sunday 8th January, Westfield cadets travelled to Birmingham to play in round three of National Cadet League.
With Adam Koszyk unavailable, Matthew Swarbrick kindly stepped up, and was joined by Prithvi Menon and Tor-West-Ley.
The team was in for a tough day, as they had rightly been promoted to Division One, on the back of previous good results.
Our first match was against title favourites Colebridge A, who justified that favouritism by sweeping us aside 6-0, and in the process did not drop of leg.
Colebridge B were next, and although the scoreline was again 6-0, Tor was unlucky not to pick up a win. Having been 2-0 down, he played really well to level the match, but just ran out of steam to go down 7-11 in the decider.
Third round was against Knighton Park. Prithvi picked up our first point, but really should have had a brace, when going down 9-11 in the deciding game againsgt the Knighton Park No. 2. Matthew was starting to find his range and played really well in his 2-3 defeat to the KP No. 3. On another day this fixture could have been a 3-3 draw, rather than a 5-1 reverse.
Round four, and we are playing a strong Birmingham 1 side. They made short work of us, only dropping two ends on their way to a 6-0 victory.
Last round of the day was against Birmingham 2, and unfortunately it was another 6-0 defeat, although Prithvi and Tor were both unlucky to lose their matches deuce in the deciding end!
Overall, it was a challenging day, but the boys enjoyed themselves, and now know what to work on to progress to the next level.
Thanks go to Natthew's and Prithvi's parents for help with transport, and I wish the boys well for Day 4, later in the year.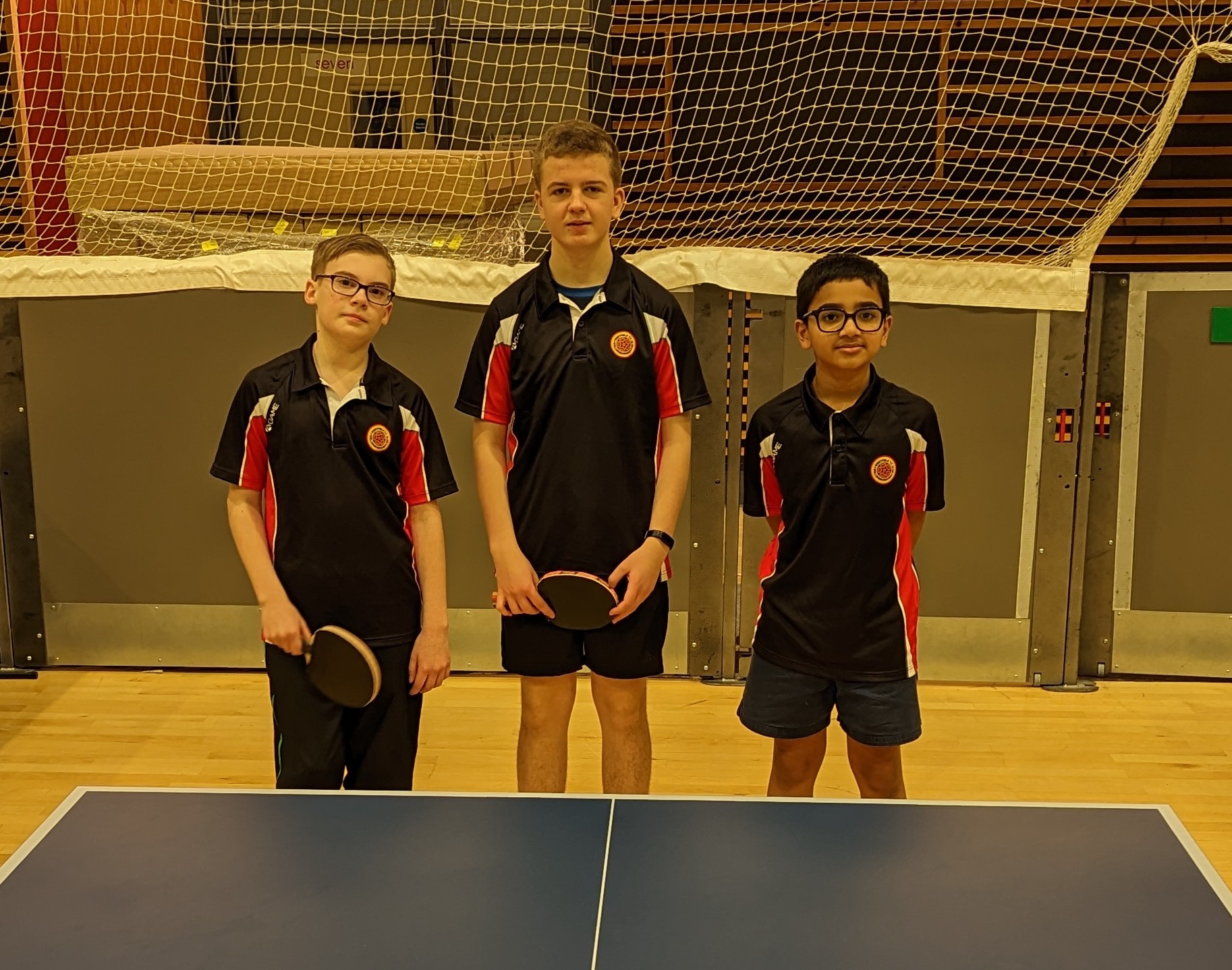 Westfield (Left to right): Tor West-Ley, Matthew Swarbrick, Prithvi Menon
Details

Written by

Kevin Bird

Category:

News Updates
The opening weekend of the National Junior League took place on Sunday 11th December in Milton Keynes.
The team of Ben Aldridge, Adam Koszyk and Gabriella Koszyk, her first time playing in this event, competed in 3 matches in division 3 in a best of nine format.
The team started off successfully with a 9-0 win against Highfield C.
This was followed by the toughest match of the day against Banbury: Ben lost the opening game to Toby Dow, followed by another loss from Adam against George Fyre. Gabriella put us back on track with a 3-1 win against Ben Shanykugn but Ben was pushed too far by Ben Fyre, losing in 5. Gabriella couldn't extend her winning run, going down to Toby Dow and George Fyre, but Adam and Ben pulled it back, winning their final games resulting in a 4-5 loss.
The final game was against Warren Springs B which the team won 8-1. The score does not reflect the tight nature of the hard fought and long match with 3 games going to 5 ends.
These results should mean that the team compete in division 2 on their second day.
Well done to all the players – it was an enjoyable day with everyone giving their best.
Westfield: Left to right. Gabriela Koszyk, Adam Koszyk, Ben Aldridge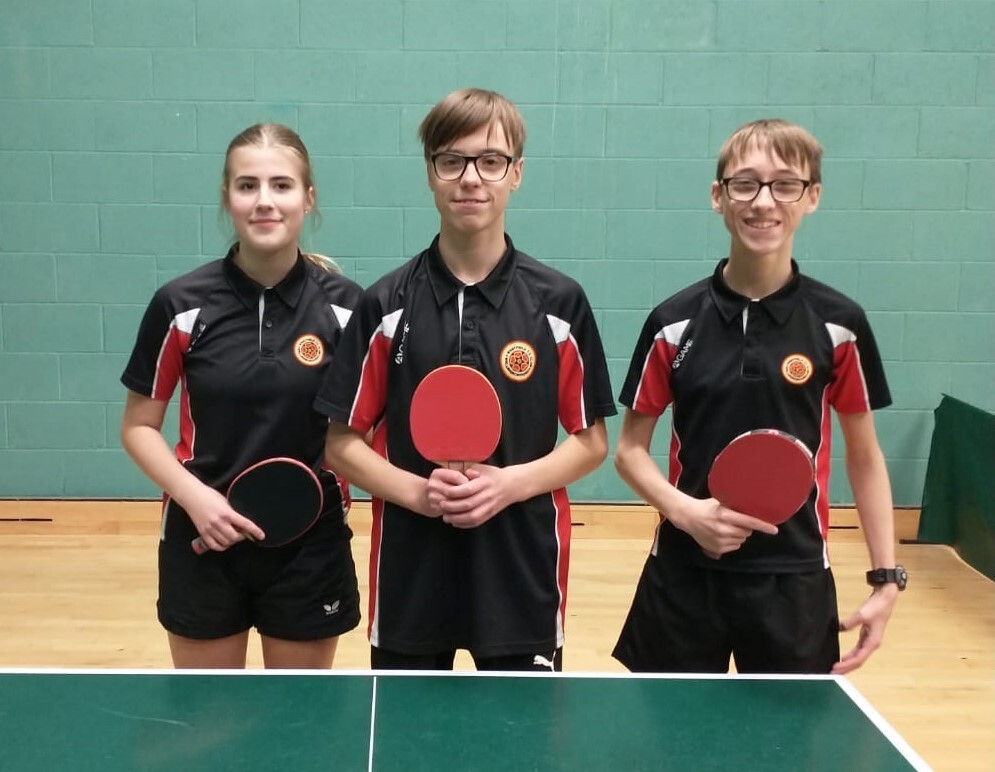 Details

Written by

Kevin Bird

Category:

News Updates
On Sunday 27th November, the cadet team of Prithvi Menon, Adam Koszyk and Tor West - Ley represented Westfield TTC in the second round of the National Cadet League at the Birmingham Table Tennis Centre.
They started off their day with a 5-1 win over Birmingham 4, Adam lost to Jaydon Baker, but a broken finger hampered his play; despite the one loss this was a good, solid start.
Next up was Birmingham 3 which proved a competitive game, finishing with a 4-2 win. Prithvi got us off to a strong start with a 3-0 win over Adrian Li; Adam was next up against Gopal Rathore and won in 4 deuce ends. Tor was then unlucky to lose in 4 close ends to Nokulus Lam before Adam and Prithvi extended the lead.
Colebridge C was the next opponent, and this proved another comfortable affair with a 6-1 win.
Our penultimate match of the day was against Colebridge D with all the games being won in 3, leaving the final match against Knighton Park, the other undefeated team. This proved one game too far which we lost 1-5, Prithvi being the only player to be successful. The final placing means the team should then be placed in the top division for the forthcoming matches.
Well done to all players on another successful day! Thanks, again, to their families for their help with transport and support.
Recent Westfield News
January 2023

December 2022

November 2022

September 2022

May 2022

March 2022

February 2022

January 2022

December 2021

November 2021

September 2021